While muesli was mocked and frowned upon in the 1970s and mostly attributed to avowed environmentalists, today it is considered an essential part of a healthy breakfast. Nutrient-dense grain foods have become increasingly popular over time. At some point, it became a real trend that continues to this day. In the meantime, all preferences and variations are catered for. Without sugar or light, rolled oats or spelled, with or without nuts, enriched with dried fruits or coconut flakes, all ready-to-eat mixes are available on the market for consumption.
But some mixes cannot live up to the healthy image of muesli. The following article explains.
When is muesli considered healthy?
A high quality muesli mainly provides carbohydrates, proteins, vitamins as well as minerals and roughage. Above all, the cereal used is rich in vitamin B1, B2, B6 or vitamin E. Magnesium, potassium, iron, phosphorus and zinc are also consumed with breakfast containing cereals.
Fiber can help prevent diabetes and colon cancer and significantly reduce the risk of developing them.
The risk of high blood pressure is also significantly reduced by the high proportion of whole grains.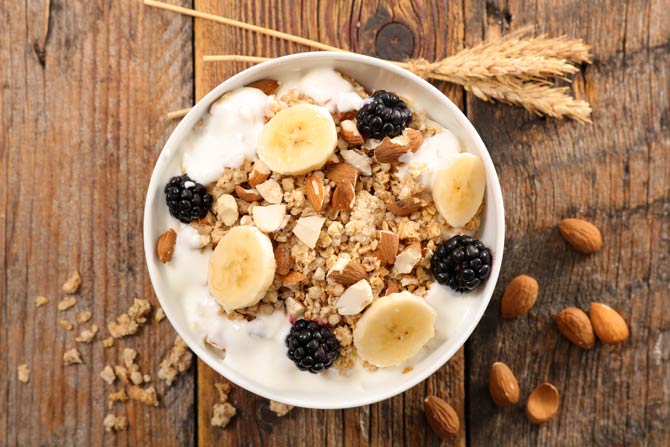 Watch out for the sugar trap!
But although mueslis are hailed as a wholesome and wholesome meal, many ready-to-use mixes are full of sugar and are therefore real calorie bombs.. Consumer advocates have been pointing this out for years. The culprits such as chocolate chips, sugar coated nougat flakes or caramelized crunches can often be seen with the naked eye. At least as often, however, sugar traps in muesli are cleverly hidden so that the layman cannot unmask them at first glance.
Only a minority know that ingredients with the "-ose" ending also hide sugar. Even ingredients declared as maltodextrin, barley malt extract or invert sugar syrup are ultimately just sugar.
According to the Consumer Advice Centre, there are many The ready-to-eat muesli mixes about a quarter of pure sugar. Surprisingly, for 100 grams of muesli, this corresponds to about eight sugar cubes.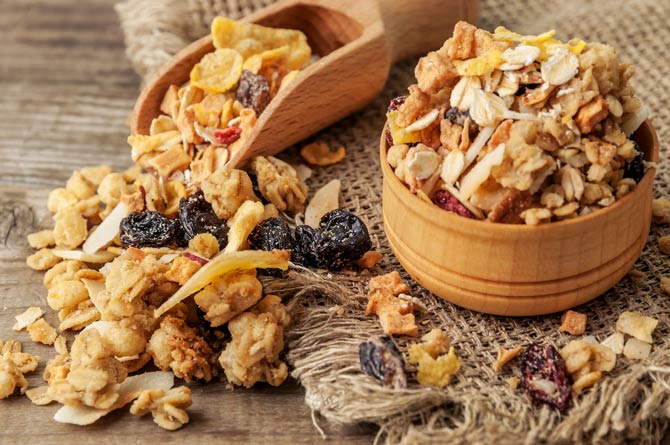 That's the problem with too much sugar
Sugar not only affects the number on the scale and our figure. It has a harmful effect on our whole body. In addition to our teeth, which suffer from cavities, too much sugar also puts a strain on our heart and liver.
All types of sugar, including fructose and milk sugar, lead to fat formation once a certain level is reached. Carbohydrates in sugar are first stored in the liver and kidneys. Once these are full, the conversion of sugar to fat occurs. Fat is in turn stored in our body – whether in the blood, in the organs or on our hips.
Excessive consumption of sugar also has a negative effect on the intestinal flora, our digestion is disturbed.
This in turn weakens our immune system and speeds up the process of our aging. The complexion deteriorates, our concentration decreases. Damage to our brain from too much sugar can lead to Alzheimer's disease or dementia. Diabetes is also caused, among other things, by an excess of sugar.
What to pay attention to when buying muesli
But beware: where it says "sugar-free", it doesn't have to contain less sugar. Mueslis enriched with dried fruits also contain a lot of sugar, because dried fruits contain a significant amount of sugar due to water loss. Enriching the muesli with fresh fruit is better.
If you want to choose healthy products for your muesli, you should not opt ​​for light or low-fat products, but for the right ingredients. These include nuts, for example, as they provide our body with unsaturated fatty acids, various vitamins, proteins and minerals such as potassium, copper, iron, zinc and selenium. Ready mixes with a crunch factor should generally be avoided, because the more crunch the muesli contains, the more sugar the products contain. Instead, unprocessed cereal flakes should be purchased and prepared at home with fresh fruit, yoghurt or cottage cheese or milk and depending on a little honey.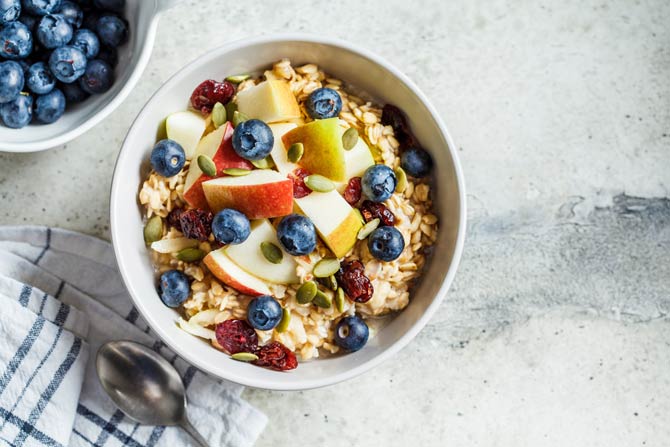 Enriching muesli with fresh fruit is better
Some dried fruits can also be included, as they are not necessarily bad – but they should only be eaten in moderation due to their calories. Flax and sunflower seeds, walnuts, almonds, cashews, etc. also offer great topping options.
Diversity on the Internet
If you want to look at a lot of different mueslis at once, you can just browse the internet for a change instead of going to the local supermarket. Online muesli shop Visit and marvel at the diversity there. The ingredients can be examined directly in the store and there should also be something for everyone in terms of taste.