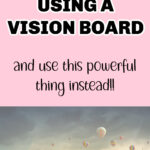 There's always so much hype about using a vision board and how amazing they are, but it never worked for me. I finally found something much more powerful and I want to share it with you today.
I have some very good information for you about these boards. Did you know that the vision board actually started back in the days of cavemen? Curious but it is true. They used it to visualize their hunt. And now we are using them to visualize our products as well.
Do you see the correlation here? I do something like Anyway, these damn things never worked for me. My assets never turned up.
I understand that some people faithfully use the vision board to make their dreams come true. People are for all of that. Me? Not that much. Oh, don't get me wrong, I tried. In fact, my girlfriend and I had a vision board party (several years ago) where we sat, laughed, and cut out pictures from magazines of what we wanted our lives to look like.
At the end of the day, it did nothing for me. All I saw were pictures of lots of money, nice cars, a picture of Johnny Depp, happy smiling people, etc. I did not feel anything. I looked at my board, shrugged, and walked away. I felt like I just created a collage for some kindergarten project.
A vision board also known as a dream board can work
Now I'm not going to criticize people who really love and trust vision board aka dream board. Congratulations to you! Whatever it takes to make your dreams come true, you go girl/man!
All power to you.
I think it's great that you guys have a powerful vision and are working to create it. Not many people do that. Too many people dream things but never act to make them happen.
So give yourself a big pat on the back for being part of the minority that wants to work for a better life. The matter of vision board ideas has worked miracles for hundreds of thousands, perhaps even millions, of people around the world. I'm sure it works.
It just wasn't doing it for me and it was time for me to forget about the vision board or the dream board.
But………..
could you I really like this video I made on setting goals. and how to achieve them
I found a vision board alternative
I like to think that I am a visual creature. This is how I learn and stay focused. Although not this time. Cut and paste images suited this girl very well. The board of my dreams became a board of nightmares. So much for that.
I need to write my stuff and read it every day, a million times a day if necessary. My space had become a central post it note. They were everywhere. Coffee pot, kitchen cabinets, utensil drawer, bathroom mirror (those looked a little rough after a while), car dashboard, closet, you name it, it had a post-it note on it.
Then one day a friend of mine says, "Hey Iva, I have something I want you to try." Finally, a vision board alternative.
In walks the Mind Map. Hello!! Where have you been all my life? Oh how I loved everything about this. A bristle board, color of your choice, and magic markers! Wow!
Let's go write and write and write!!! I was in my glory. Finally someone got me. What took them so long (or should I say, what took them me Bye)?
My bristle board color choice? Pure white!! I wanted to see every little thing he wrote in black and white. Big bold letters. Big check marks. Big stars with them. Now this is my idea of ​​a dream board!
Boom!
Slowly but surely and steadily, things start to happen. I wrote that I wanted this___ right now____ and this is what I had to do to get it___, and I did. Things were finally working out for me.
I wrote it, I read it every day, I figured out ways how I was doing to achieve it and it happened. like magic. My life began to take a turn for the better. Finally.
He crossed off the goals as he achieved them. Sometimes you would have to extend deadlines, but that's okay too. I never lost sight of what I wanted. It was there in front of me in black and white. Kind of hard to ignore that.
You can check this blog for more details on how to use a mind map
dream board or mind map
Now, I'm not an expert on manifestations or visualizations or anything like that, but I can say that, without a doubt, the mind map did for me what the vision board couldn't. But I am so I.
If you've been feeling frustrated with your vision board lately or looking for something else that looks a bit similar but produces different results, then maybe it's time to give the mind map a spin. Trust me this time. Do you have questions? I have the answers! I mean, forget about the vision board and try this instead.